2 tags
instant summer classic
2 tags
Starred →
30 tags
24 tags
24 tags
5 tags
2 tags
amazing, must listen
6 tags
An Easier Way to Look At Germany's Rieslings
Often times I see people getting confused over German wines very easily.  They get stuck up on the classification levels (Kabinett/Spatlese…), or killing each other over trying to find the one with a perfect sweetness.  Questions like these come up: Is this dry, how sweet is this?  I need to propose a new way for all this drama that will maybe make things a bit easier for everybody. ...
Sommelier's Guide to Alsace Grand Crus with No...
Alsace is France's one of the major white wine growing regions.  Four grapes really thrive here: Riesling, Pinot Gris, Muscat & Gewurztraminer, also known as noble varietals.  Alsace names its best sites as grand cru.  It used to be that only noble grape varietals were allowed to be grown on these sites, but since 2004, more grape types have been permitted for viticulture. Another...
once again, real madrid loses.  [tears]
3 tags
@bansheewines 2009 Pinot Noir is the proof that you don't have to pay arm & a leg for a solid wine.  Great fruit, great structure and very well integrated alcohol Plus, organically farmed!
Cold Heaven "Makepeace" 09, not just another Pinot
Ah where to start.  One tough thing about buying wine is that every other day you are offered more & more options.  I run through roughly 36 distributors now.  That's a lot.  Each one has at least average of 300 selections.  That gives you about 10000 to choose from.  Ok… And Pinot Noir… Sigh.  One big bubble of choices.  It's easier to choose let's say Malbec or...
This holiday, don't drink Beajolais Nouveau. Drink...
Difference? Beaujolais Nouveaus are made with a method called carbonic maceration, which is instant fermentation by adding CO2 to grapes. For winemakers, this is sort of cheating as the wines end up having not much depth & being fruit bombs. On the other side, Cru Beaujolais wines properly go through the winemaking -mostly Burgundian- process & showcase what terroir & craft...
Never buy a butcher knife from a dollar store. Just saying. ;)
I don't like roses, but...
Well this Schnaitmann 2010 Evoe!  is definitely worth mentioning.  Yeah I don't like roses in general.  They are just so…ummmmm…blah most of the times, you know. Yeah you do.  Shcnaitmann family has more of a modern touch to German wine making: Less sulfites, no acid tricks -deacidify or vice versa-, native yeast when possible, no chaptilization.  Yes, you will be amazed what...
5 tags
Movie & Wine Pairings. for fun :)
Godfather I: The anger, lust, envy, fortune, revenge, death, blood, etc.  It's all in this epic movie.  Just to stick to the roots, I will go with a Sicilian wine.  Perhaps one from its only DOCG: Cerasuolo di Vittoria.  Paolo Cali makes a nice one.  Grapes are Nero d'Avola & Frappato of course.  You will find the bright flavors of cherry, small berries & pomegranate perfect...
Is @residentadvisor falling apart?
There are very few websites I regularly check for new music.  These days, there is just so much information out there that you run into good music at random places so you don't even really need a very reliable resource.  There is one website though I always make sure I visit at least once every other week: Resident Advisor.  RA is great for electronic music fans.  It's what Pitchfork...
Today's tasting list
La Freynelle Blanc 2009 - Bordeaux Cht. Reignac 2004 - Bord. Sup. Cht. Simmard 1999 - St. Emilion Cht. Kirwan 2007 - Margaux Cht. La Coustralle 2008 - Cahors Cht. Coutet 2007 - Sauternes Royal Tokaji 2000  Michel Redde 2009 - Sancerre
Wset level 3, here I come :)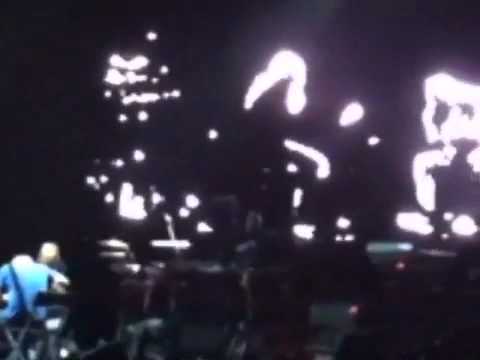 Portishead at the Greek Theater
can't wait!
Safeway wines are weird, mostly.
Yes, so I decided to buy some cheap wines for blind tasting purposes.  You know, Safeway has like $2-$4 wines almost in every category.  Went there, and had a pretty good deal.  20 bottles for around 80 bucks.  Tax included.  But hey, wait till you taste them. Pinots I tasted were somehow alright, not giving out names of course, but I can say they were on the identifiable side.  Chianti &...